Secret filming at one of the biggest UK Covid testing labs has found evidence of potential contamination, discarded tests and pressure to hit targets.
A BBC reporter working as a lab technician, filmed staff cutting corners and processing samples in a way that could cause contamination.
This means some people who had taken a test via NHS Test and Trace may have received no result or a wrong result.
The lab said it had followed all necessary rules and regulations.
Evidence at the lab captured on film shows:
Checks to ensure samples could be identified, were rushed, meaning tests were sometimes discarded unnecessarily
Some test samples "glooped" across an area where other samples had been placed, risking contamination
Swabs used by people to take Covid tests were left in their tubes when processed, presenting a further contamination risk
A quality control scientist telling the reporter that the quality of the results progressively got worse throughout the day
The findings have led experts to question the way the lab was operating.
One expert described a scene from the undercover footage where a technician wipes up a sample with a tissue as "crazy".
"[T]here is almost zero question," said Chris Denning, director of the University of Nottingham Biodiscovery Institute, that this "would lead to contamination".
Another expert, who used to run a company doing millions of PCR tests, said "You cannot run a service like this."
"[T]here are ways of making things faster," said Phil Robinson, "and it's not by doing things at lower quality."
Missed checks
The lab in Milton Keynes is run by not-for-profit company UK Biocentre and is one of seven so-called Lighthouse laboratories brought on stream by Number 10.
UK Biocentre at the time said it was "already addressing observations". But months after, sources told the BBC's Panorama programme about continued poor practice.
Reporter Jacqui Wakefield worked 18 shifts undercover in January and February to investigate.
She joined one of four teams of technicians preparing and processing PCR test samples.
The Milton Keynes lab handles test-and-trace samples from members of the public.
It can process 70,000 coronavirus tests per day, but while Wakefield was there it was usually between 18,000 and 40,000.
Despite being in the midst of the second wave of coronavirus, the lab technicians the reporter worked with sat idle for significant periods of their shifts.
But technicians worked to targets regardless of the number of sample arriving in any 24-hour period.
At the sorting stage where tubes containing people's Covid test samples were removed from bags, checks to ensure they are traceable were sometimes rushed.
This is the start of the testing process.
Each sample should arrive with a barcode on both the bag and the sample tube inside, meaning that if the tube itself is missing a barcode, the one on the bag can be used.
But the Panorama film shows a sample tube without a barcode, being discarded due to the bag having already been thrown away.
It meant the person who had taken the test would then have to take another.
The reporter spoke to colleagues on each of her shifts who told her this happened regularly.
The lab told Panorama it is essential people get results quickly, and to ensure staff can work to the laboratory's standard capacity.
Liquid handling robots
Wakefield also filmed a number of practices at the lab which experts said could cause contamination, raising questions over the reliability of test results being sent out.
After they are sorted, samples are sent to liquid handling robots at the heart of the mass testing process.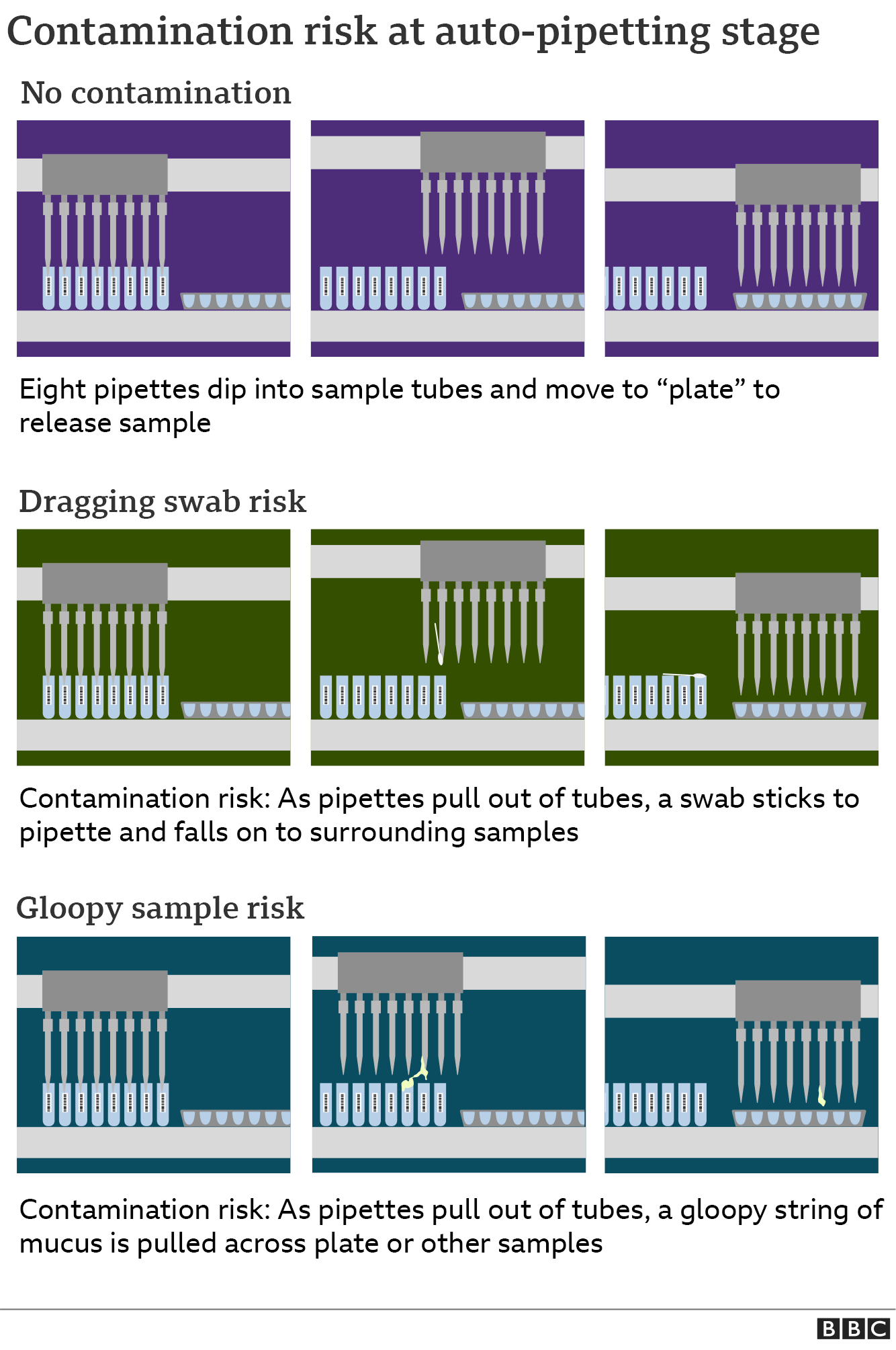 The robot's pipettes automatically dip into eight tubes at a time, suck up a small portion from each and then deposit these on a testing plate, where they are later analysed for the presence of the virus that causes Covid-19.
To save time, swabs used by people to take their tests, were left inside their tubes, rather than being removed by hand first, when processed. On occasion, these swabs were caught by the robot's pipettes, lifted out and, sometimes, fell across other samples, potentially contaminating them.
The laboratory said if contamination is suspected the run must be stopped, the system cleaned down and a new run started from scratch.
However, while some technicians did pause the machine, Wakefield filmed others pushing the swabs back into their tubes with a gloved hand. Experts said this too could cause contamination.
Watching the evidence, Prof Denning said: "If a solution has got a full infection… of millions of particles and you start bouncing this around, naturally, little droplets are going to spray off in all different directions."
Some samples are much thicker than others because of mucus, and these also present a contamination risk because of the way they are sometimes handled in the Milton Keynes lab.
Wakefield saw these thicker samples regularly hanging off robot pipette tips and dripping across other samples when being transferred to the testing plate.
Wakefield filmed technicians continuing to process the plates, with one attempting to salvage a plate by simply wiping it with a tissue.
"What you're seeing here is absolutely crazy," said Prof Denning. "There is almost zero question that this would lead to contamination."
The lab said there may have been isolated mistakes by "individual staff", but this should be seen in the context of a facility that has gone from zero to testing 11 million people in a matter of months.
'Industry best practice'
After tests are completed, results are checked by the lab's biomedical scientists who are responsible for quality control.
The reporter spoke at length to three of the scientists, and while she was told by one that management wanted to improve quality at the lab, two told her they see hundreds of samples on testing plates they think are contaminated.
One frustrated scientist told her that the quality of the results were often better at the start of each shift, saying things got progressively worse and that by the last hour of the day, "half of the plate is garbage".
UK Biocentre said its "test positive rate" closely tracks the UK's average, providing reassurance its results are robust and trustworthy.
It said Panorama's findings were "an incomplete and selective" representation of its efforts, and it had been "operating under a unique period of pressure" because of the second wave of the pandemic.
It has contributed significantly to the pandemic response, it said, operates "in line with industry best practice", and has been recommended for accreditation by the regulator.
The government said it demands the highest standards, takes "concerns extremely seriously" and "will be fully investigating all the allegations that have been made".
source: https://www.bbc.co.uk/news/uk-56556806
---