Basildon Hospital maternity staff exposed to 30 times legal gas limit
Staff at a maternity unit were exposed to almost 30 times the legal workplace exposure limit for nitrous oxide, documents have shown.
Testing at Basildon Hospital revealed the levels more than 16 months before colleagues were informed.
The Royal College of Midwives said its members there were considering legal action.
The Mid and South Essex NHS Trust said "significant improvements" had been made.
Routine testing of the maternity suite in June 2021 revealed nine staff members had been exposed to excess nitrous oxide levels during the course of their shifts.
Three had readings of more than 1,000 parts per million (ppm) of the gas, while a fourth recorded almost 3,000.
Trust management apologised after failing to notify staff at the unit until October 2022.
A briefing seen by the BBC stated the issue was logged on the risk register, but "there has not been proper oversight of the problem and staff have not been informed".
Nitrous oxide gas, also known as Entonox, is used as a sedative for women during childbirth.
One person familiar with the situation, who did not want to be identified, said: "We had an email sent out that said 'emergency maternity staff briefing' and there was a Teams meeting.
"The Teams meeting was very, very difficult to listen to. It was very emotive. People were angry understandably, but I feel like the executive who were on the call didn't handle it very well."
Vitamin B12 deficiency was highlighted as a potential health risk arising from exposure to the gas.
The whistleblower said some colleagues had described "miscarriages and fertility issues". The Trust told staff, in a document seen by the BBC, that expert advice was that there was not enough clinical evidence to support fertility issues.
So-called 'scavenger' devices have been installed at the unit to purify the air, but a briefing on 23 December informed staff that testing revealed nitrous oxide levels were still too high.
The test documents revealed some staff had exposure of 856 parts per million during the course of their shift - more than eight times the limit.
"We are going to put further mitigations in place while we get to the bottom of the problem," the briefing stated. New ventilation units have since been installed.
The staff briefings also disclosed the Good Governance Institute (GGI) had been commissioned to carry out an independent inquiry into what had led to the ongoing issues.
Testing of staff for vitamin B12 levels was commenced in October and pregnant staff were redeployed.
Based on the test results, staff would be referred to specialists.
The BBC spoke to eminent pathologist Prof Sir Colin Berry, who has advised the UK government and World Health Organisation on medical safety.
He downplayed the risks to staff in environments where nitrous oxide levels breached workplace exposure limits, describing the 100ppm cap as 'precautionary'.
Sir Colin said a distinction needed to be made between occupational exposure and those abusing the gas.
He said: "Intermittent exposure is the important thing. Your body is very good at dealing with toxic agents. Having it there for eight hours is quite different from having it there for 24 hours. You've got big recovery periods."
Commenting on the Basildon test data, he said: "The levels that they're exposed to I think are very unlikely to cause any ill-effects."


The BBC has spoken to one law firm, which confirmed it had been approached by staff members and had been told another firm was also involved.
The Royal College of Midwives said discussions were taking place.
A spokesman said: "We have been approached by midwife members who have suffered a variety of symptoms they attribute to exposure to Entonox.
"Basildon Hospital investigations have revealed the exposure levels in the maternity departments were over the legal limit.
"We are investigating these issues with our lawyers to support our members in potential claims and have reported the issues to the HSE who are also carrying out their own investigation."
The BBC has approached the Health and Safety Executive (HSE) for comment.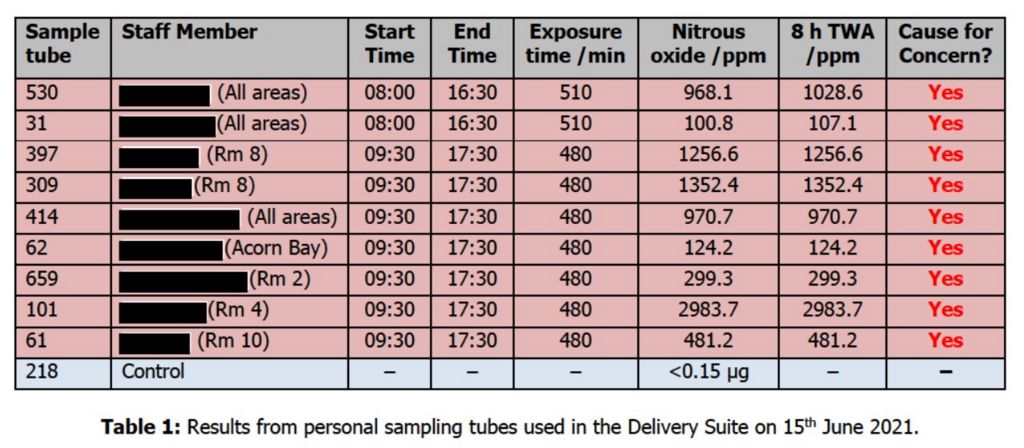 A spokesperson for Mid and South Essex NHS Foundation Trust, said: "We have followed all of the expert advice provided to us to deal with the issue of nitrous oxide in the air at our maternity unit at Basildon Hospital.
"Significant improvements have been made and it is perfectly safe for service users and their families to continue to use the maternity unit as normal. We have taken action to resolve the situation and an investigation is under way.